Press and Media Resources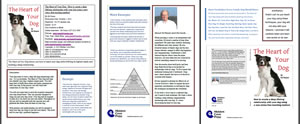 Download PDF version of 3 page book summary (12.7 KB)
Last updated 9/2/14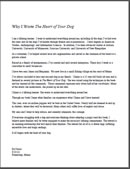 Download Why I Wrote The Heart of Your Dog (PDF, 9/10/14)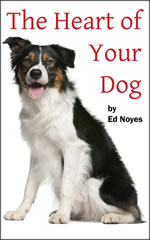 Download Simplified Cover (JPG, 4.54 MB, 2820 x 4500)
This image is used as the cover image for Kindle and iBook versions.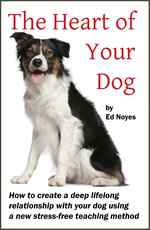 Download the Front Cover to the Print Book (JPG 1.63MB, 1806 x 2706)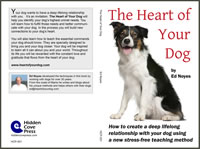 Download Front and Back Cover to the Print Book (JPG 2.54 MB, 3726 x 2781)

Download Author Ed Noyes (JPG 12.1 KB, 300 x 300)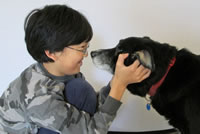 Download Face-to-Face Image from Book (JPG 1.15 MB, 1800 x 1210)
This picture illustrates the important face-to-face technique.  It is used for teaching, correction, giving praise, and keeping things calm.  Besides getting your dog's attention it helps build the friendly connections vital to bringing your dog into the family circle.  The author's son James Noyes and dog Chimo demonstrate.  James is 12.  Chimo is a 13 year old black lab mix, rescued as a pup.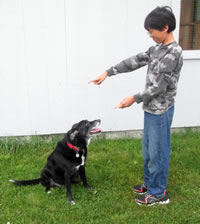 Download Biscuit Toss Image from Book (JPG 3.24MB, 2560 x 2864)
This picture illustrates the biscuit toss game.  It's a game many families play with their dog.  It can be used to teach useful commands, including Pick It Up, Drop It, and Get Back There.  It can also be used to reinforce familiar commands like Stay and Sit.  More importantly the biscuit toss game is a great way to attach a less harsh meaning to Bad Dog.  James and Chimo are pictured.
Additional images available upon request.